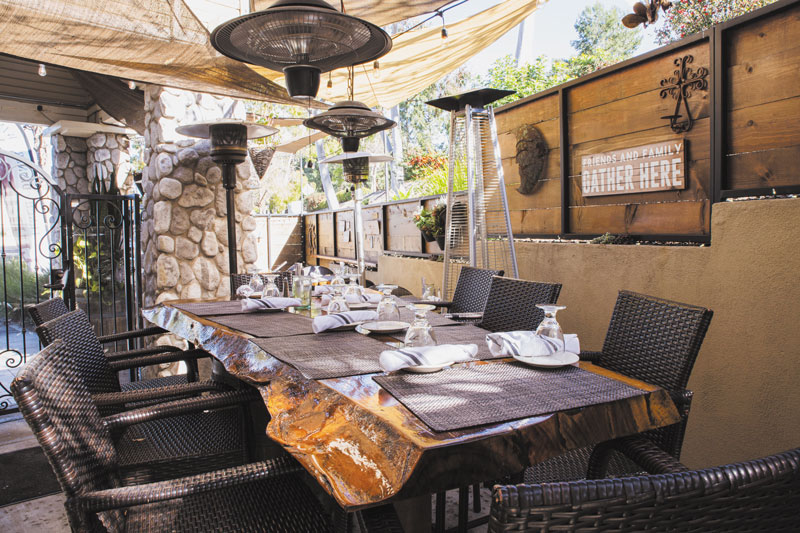 A 'celestial dining experience'
By Sonia Cervantes
Have you ever put off trying a restaurant that someone has suggested?
For several years, I've driven past Café Luna on my way to the office. I finally stopped in to see what all the hype was about.
You might be wondering why it took me so long. It's a simple answer. I only went to the office on Mondays, the same day the restaurant was closed.
Café Luna's cozy and comfortable ambiance is suitable for a romantic dinner, or a casual lunch with friends and family. The European décor in the outdoor side patio transports you to Italy as you sip on a glass of wine from the exclusive boutique wine collection. After seeing the selection, you might even feel enticed to join the Café Luna wine club.
A basket of warm and crispy bread served with "Celestial sauce" was brought to the table while I was waiting for dinner. It is beyond a dipping sauce! It can be used as a marinade, pasta sauce or salad dressing. It is also available for purchase in 8-ounce jars.
I enjoyed the seared diver scallops with pappardelle pasta and saffron in a white wine cream. The scallops were perfectly seared. I also ordered the Italian eggplant, a vegan and gluten-free dish. The simplicity of the ingredients allows the natural flavors to stand out.
Nona's meatball panini is a favorite item on the lunch menu. It is made with filet mignon, veal and pork meatballs, pomodoro sauce, parmesan and mozzarella cheese on a ciabatta roll.
The Rosetta is a signature dish with fresh-made pasta, ham, swiss cheese, cream and parmesan cheese, available in different size portions. This is a great way to enjoy more than one of the dishes without the guilt of eating too much.
The tournadoe(s) gorgonzola – seared twin petite 4-ounce filet mignons, gorgonzola cheese, mushroom caps, with a cabernet demi-glacé – has been one of the favorite dishes for many years and customers keep coming back for more.
The staff is friendly and accommodating. Jamie Wimmer, the owner, runs the restaurant and catering services.
My suggestion is, don't wait as long as I did to enjoy their food. As they say at Café Luna, "They love you to the moon and back." I loved their food and I'll be back.