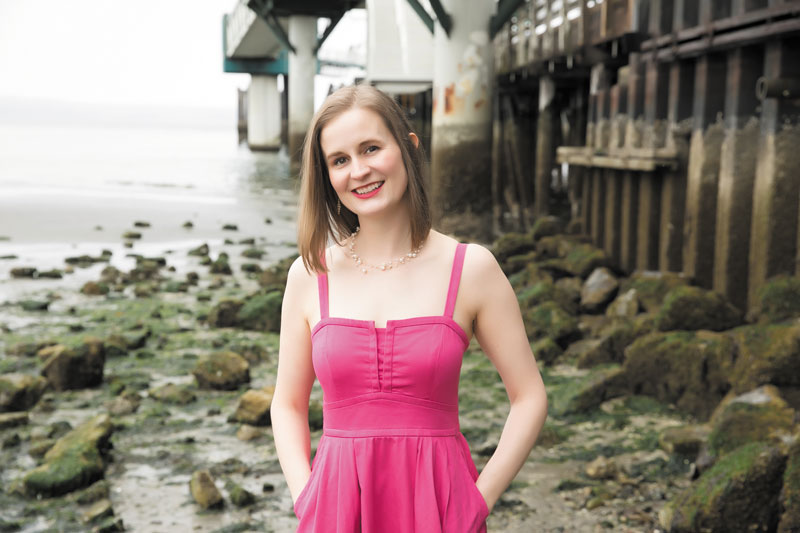 Author and columnist once lived in Scripps Ranch
By Kaila Mellos
Jennifer Bardsley is a former resident of Scripps Ranch who now lives in Edmonds, Washington, where she is a columnist at The Everett Daily Herald newspaper and an author of a newly published book.
Bardsley moved to Scripps Ranch right around the time that Scripps Ranch High School (SRHS) initially opened in 1993.
"I was in the first sophomore class, so it was an exciting time because the school wasn't all the way finished being built, but they opened classes anyway," she said.
Once she graduated from SRHS, she attended Stanford University and eventually moved to Washington state.
"I just didn't come back because I met my husband, and he was from Washington," Bardsley said. "We ended up moving to Washington, and I've written a column for The Everett Herald for nine years."
She is now the writer of the "I Brake for Moms" column in the paper, which focuses on what it's like to be a mother in her community. She enjoys writing about the things not covered by the more prominent newspapers, like the Seattle Times.
"So, that's what I try to focus on: What is it like being a mom in my area?" Bardsley said. "The community pool is a huge thing here, and they're usually indoors because it's too cold to swim in the winter. So, I write about what it's like to go to the community pool when you have a four-year-old son, and then you have to bring them into the women's restroom with you, and everyone's in the group shower. And like, what do you do? Writing about things that matter to parents in my local community – that's the focus of my column."
Bardsley is a proud mother of two children, so this is where she gets her inspiration to write her column.
"When I started, I was talking about car seats and nursing, etc. And now my kids are older. One is 12 and the other 16. So, it's changed and I've been cautious about trying to shield their privacy, too," she said.
Apart from her column, Bardsley has been writing books. She has had many series, starting with a self-published series under a penname with Scripps Ranch ties.
"I had another book personally published called 'Narcosis Room' under a penname, Louise Cypress. That's a Scripps Ranch reference because I took my middle name, Louise, and the street I grew up on, Cypress Terrace Place, and I came up with that," Bardsley said. "I have a bunch of self-published books under it that are young paranormal vampire-themed. They did well and at one point hit number one on the best-selling teen vampire book (list) on Amazon."
Another series she wrote is now only available in Turkey, and she is constantly tagged on Instagram by fans trying to reach out to her.
"My very first two books were called 'Genesis Girl' and 'Damaged Goods,' and they were young adult sci-fi," Bardsley said. "They were from a small publisher, and those are now out of print in America, but they're still published in Turkey. So, if you go on Instagram, I keep getting tagged by Turkish readers, and they write reviews and take cool pictures on Instagram."
Bardsley has two brand new books this year. Her first one, "Sweet Bliss," came out July 13. The second, "Good Catch," comes out Oct. 5.
"It's my first series for adults, and it's also my first series from a major publisher, which is Montlake, owned by Amazon publishing," she said.
Bardsley's books can be purchased through Amazon or through her website JenniferBardsley.com.