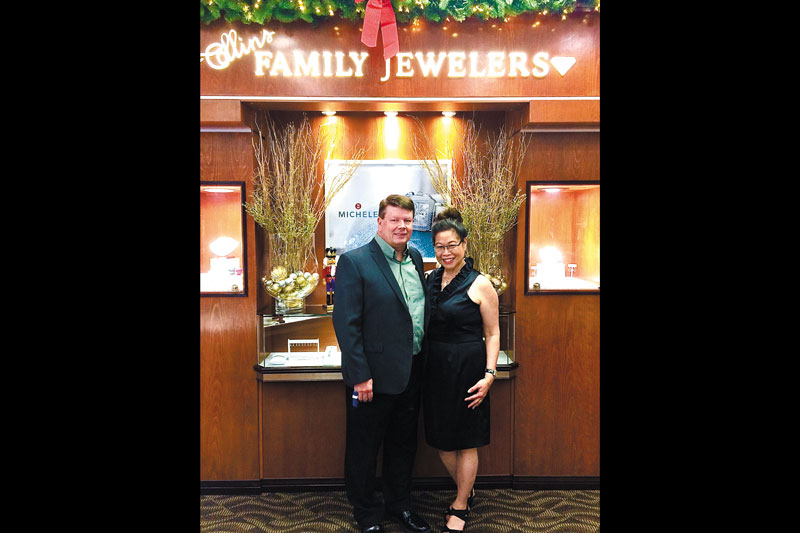 Collins Family Jewelers celebrates its 43rd anniversary
By Colleen McNatt
On a recent Friday morning, the employees of Collins Family Jewelers convened in-person for their first staff meeting since the COVID-19 shutdown in 2020. There was much to talk about and celebrate.
This month marks 43 years in business, and in the same Mira Mesa shopping center for the duration. Four decades ago, the shop inhabited 400 square feet and featured stamps and coins. Through the years, the business transformed into a full-service jewelry store with 3,000 square feet of elbow room, located at 8220 Mira Mesa Blvd.
Not too many enterprises can claim that, yet owners Bill and Cynthia Collins and their team of daughters, son-in-law, four jewelers and coveted staff are recognizing how far they have come since the store had to close in March 2020 for over two months.
Cynthia, who met Bill in 1979 while waiting on a tow rope skiing in Big Bear, is healing from breast cancer and a double mastectomy from just more than one year ago. They celebrated their 40th wedding anniversary on Valentine's Day this year. The couple's fifth grandchild is expected in January 2022.
More milestones have occurred during the pandemic.
"COVID gave us permission to change our paradigms," Cynthia said, explaining how the importance of family values was a focus for her employees and the future of their business. "We had to be creative to survive."
Each of the Scripps Ranch couple's five daughters have worked at the business in some capacity since they turned 16. Today, four daughters, ranging in age from 19 to 37, work in the store. Their business hours are now Tuesdays through Saturdays, 10 a.m. to 3 p.m. Customers visiting the store are immediately greeted as the front door is opened for them by one of the employees.
The family business also owns all of their goods and inventory, and with on-site jewelers, including one senior jeweler, customers do not have to wait for outsourcing or longer delays with shipping or repairs. An office space was completely remodeled for a nursery, so the Collins' grandchildren can accompany their parents to work with ease.
As a brick-and-mortar family enterprise, Collins Family Jewelers has no online store. They still don't have one, by design, listening to how their customers shop for their jewelry needs. When the store was closed for more than two months in 2020, the Collins' eldest daughter Briana had time to devote to their Instagram presence. Last year, the store had 800 followers on Instagram. Today, there are more than 7,000 followers @collinsfamilyjewelers. Briana posts daily on Instagram and has increased her photography and marketing skills to reach customers all over the world who are looking for that one-of-a-kind piece of jewelry. She has branched out with TikTok videos, too. Now, more than 20 percent of the customers of Collins Family Jewelers comes from social media, with only one request for a return, Briana said.
Throughout the month of October, to celebrate their 43 years of longevity in business, customers can receive 15 percent off estate jewelry or an additional 10 percent off existing inventory.
For more information, visit collinsfamilyjewelers.com or call (858) 578-6670.