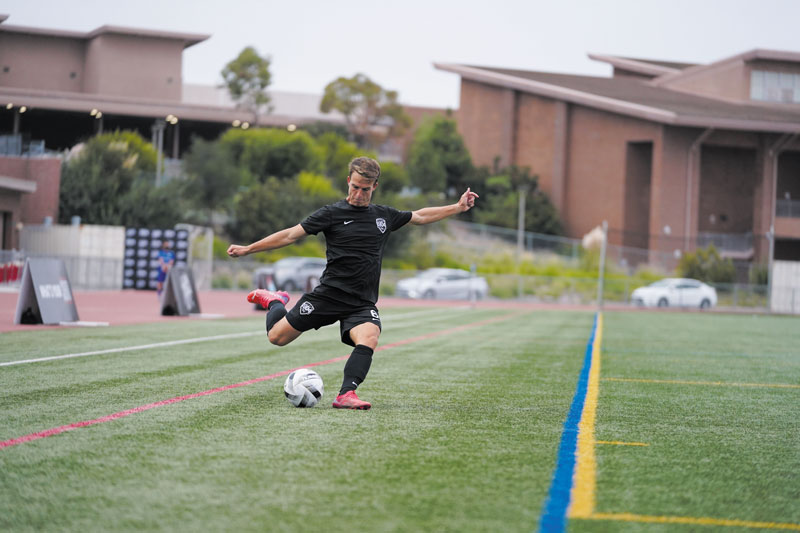 Cutler thrives as player-coach for 1904 FC
By Hector Trujillo
There have been many who have had a successful playing career in professional sports and then moved on to try their luck in the coaching ranks. Soccer is one of those sports that is famous for that, where the passion remains long after players hang up their jerseys and put away their cleats.
The best local example is the USL Championship team San Diego Loyal with Landon Donovan who, after an impressive rookie season at the helm, has his team on track for its first playoff appearance in club history. In the case of San Diego 1904 FC, which competes in the National Independent Soccer Association, there is a special situation with assistant coach and player Dallin Cutler. The 28 year old Rancho Bernardo High School and San Diego State University graduate is pulling double duty this season by playing as a defender and being part of the coaching staff.
Coaching is nothing new to Cutler who has been in charge of the Rancho Bernardo High School Boys Soccer team since 2015, so this current role is something that he's fine tuned for.
"I've been coaching for a while now and have grown to love it. An opportunity to jump in as an assistant coach arose and I'm very grateful the new ownership group and Scott (Morrison) entrusted me with the opportunity to help the team out in this new role," Cutler said.
During his time at San Diego State, Cutler helped lead the 2016 mens soccer team to its first NCAA tournament appearance in 10 years, all while garnering Pac-12 All-Academic First Team Honors (a feat he would repeat in 2017).
"He was always one of our most technical and intelligent players. It is no surprise to me that he is playing at this level, and he always displayed a propensity to coach," said former SDSU mens soccer coach Lev Kirshner. "This is a perfect position for him to be in at this time in his career. I have to say that San Diego 1904 FC is very fortunate to have Dallin playing a dual role in their organization."
Before becoming a mainstay for 1904 FC ever since the team started competing in 2019, Cutler spent time in the National Premier Soccer League playing for ASC San Diego alongside current teammate Ozzie Ramos. They helped lead the team to a 9-2-1 record, earning the top seed in their conference and a trip to the regional quarterfinals in 2018. Cutler took the NPSL by storm that season with 14 assists and two goals, which accounted for more than half of the team's goals.
"It's great for him to keep playing for as long as he possibly can to help bring success to the club on and off the field whilst gaining valuable coaching experience," said San Diego 1904 FC head coach Scott Morrison. "Dallin has done a great job so far this season in his role as player/assistant coach. He still has a lot to offer as a player in NISA and has been instrumental in helping put the team together for the fall season whilst continuing to help us plan for the future."
Among the players that Cutler was responsible for bringing in was striker Matthew Hurlow-Paonessa, who has a resume that would match that of those currently competing at the highest levels of U.S. soccer. Despite the fact that the team has had an up and down season so far, the fan support has only grown stronger based on the attendance numbers at Canyon Crest Academy Stadium where 1904 FC plays its home matches.
"I expect that we will turn things around and continue to grow as an organization so we can continue to produce something that our fans can be proud of," Cutler said. "There are a lot of good things happening at 1904 FC and everything is coming together. We are excited to show our fans what we are capable of."