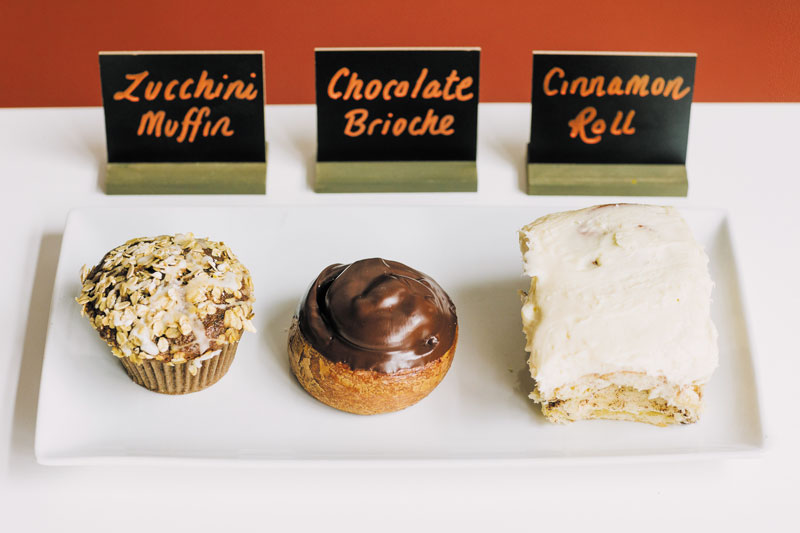 Nutmeg Bakery Café
Taste of sweet and savory with a local twist
By Sonia Cervantes
I recently visited Nutmeg Bakery & Café, a family-owned artisan establishment offering farm to table, sustainable foods and sweets.
I met Drew Hoffos, chef and partner, to hear his story about this growing cafe.
"It all began nine years ago," Hoffos said. "My wife, Michka, and I wanted to support her mother's passion for baking with gluten-free and organic ingredients, which are sourced locally."
Shirin Soroushian, Michka's mother, lived in Italy for many years and enjoyed making gluten-free dishes. This trio opened their first café in Sabre Springs, a charming restaurant that has been delighting its community with delicious creations ever since.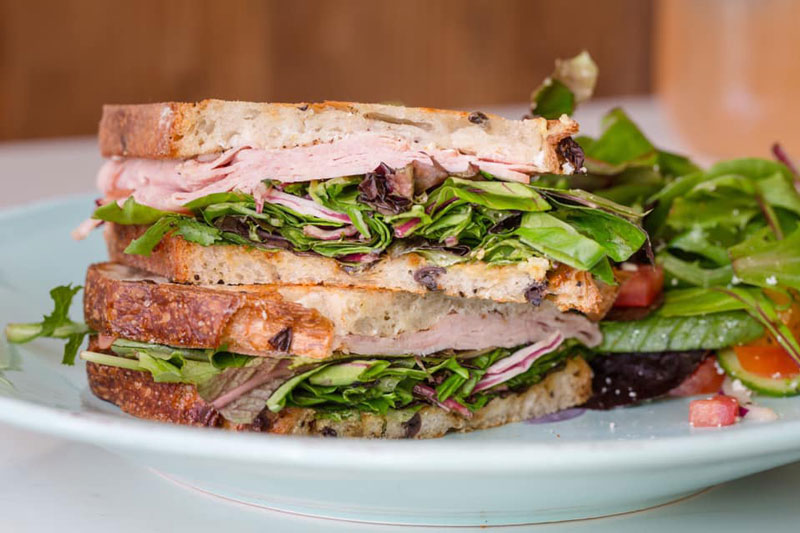 They opened their second location in Scripps Ranch in September 2019. Despite the pandemic's impact on the restaurant industry, they were able to pivot and keep both restaurants afloat by providing take-out meals and selling ingredients such as flour, yeast and organic eggs. Most who survived the pandemic can relate to the numerous shortages experienced throughout 2020, including baking goods and other essential items.
Hoffos saw the silver lining – they were able to expand their outdoor seating for people to enjoy their meals al fresco.
"Local tastes better" is a true statement at Nutmeg Bakery & Café. They source their ingredients from local farmers, coffee roasters and fishermen. Their dishes are prepared from scratch with local organic ingredients.
"Take for example the mayonnaise," Hoffos said. "It's made from scratch with local farmed fresh eggs and organic ingredients."
You can be sure that the amazing spread that goes on their sandwiches does not come from a supermarket jar. The same goes for their homemade pesto and sundried tomato spread.
Their menu offers vegan, vegetarian, gluten-free and dairy free options to support their customers' dietary choices. It also includes "munchkins" kid-friendly options.
For a savory breakfast, the brioche French toast is a must! It is made with brioche soaked in a cinnamon-ginger batter, stuffed with ricotta cream and topped with seasonal compote. The flavors change weekly as they rotate seasonal ingredients and toppings into the dish.
The vegan breakfast scramble is a delicious vegan option. It's made with local tofu from San Diego Soy Dairy, organic black kale, grilled onions, local mushrooms and Soyrizo, served over herbed home fries. It is topped with avocado.
They also offer a variety of pastries including an espresso chocolate chip scone, gluten-free brownies, and mini cinnamon rolls.
For lunch, they offer a great selection of sandwiches, paninis and salads. The soup of the day is made from scratch with seasonal ingredients. Ninety-five percent of the soups are vegetarian and gluten-free.
The Bombay panini is a savory and sweet option made with sugar-and-spice bruleed, nitrate-free ham, curry-apple chutney and cream cheese on a grilled French roll with an organic spring mix.
The smokey tom is a house-roasted turkey sandwich with smoked gouda, homemade chipotle aioli, organic greens, onion relish and sliced tomatoes, served on toasted sourdough bread.
Nutmeg has lots of drink options as well. I liked the agua fresca, made with seasonal nutritious and delicious fruits. Perhaps you'd prefer a golden milk latte for its anti-inflammatory properties, or an iced metolius chai to cool down on a summer's day.
The bakery offers a variety of cakes. The flavors vary from chocolate, carrot and cheesecake to amazingly decadent options such as double chocolate, Nutella, lemon drop, banana cream, and coconut rum.
What's next for this family business? A third location is coming to Mira Mesa in a few months. It will be at the Casa Mira View apartment complex. Hoffos is also working on future projects, collaborating with an indoor-farm expert and building a menu that utilizes produce grown on-site in an upcoming housing development project to be completed by 2024.
NUTMEG BAKERY & CAFÉ
Hours:7:30 a.m. to 2:30 p.m. daily

Sabre Springs
12640 Sabre Springs Pkwy
(858)486-8863

Scripps Ranch
10755 Scripps Poway Pkwy
(858) 397-2922
Sonia Cervantes is a certified health coach, certified nutritionist, master herbalist and founder of Sonia's Healthy Corner. She helps individuals, families and organizations take care of their health through simple everyday lifestyle changes. She describes herself as a "foodie with a passion for health."
Visit soniashealthycorner.com.