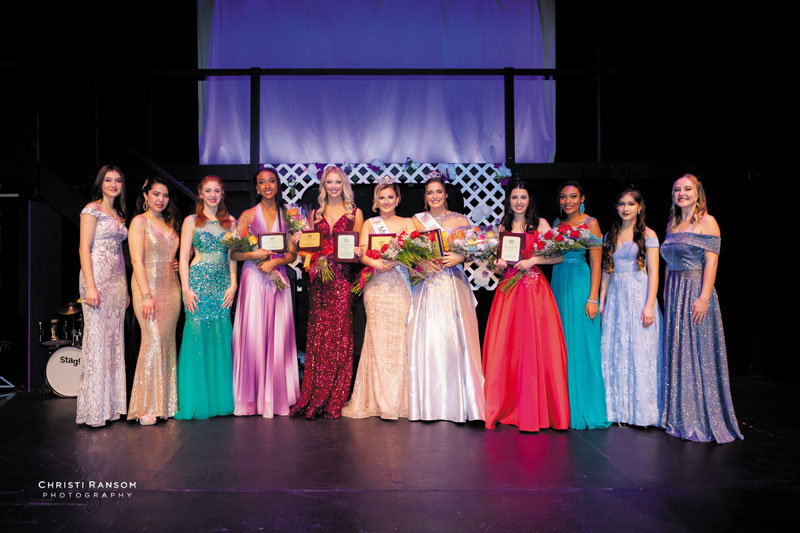 Pageant builds confidence; helps with college
By Kaila Mellos
Four young women from Scripps Ranch competed in the 2022 Miss San Diego Pageant and Scholarship Association on March 27 at the Young Actors Theatre in Spring Valley. The local participants are Anneke Barrow, Jayden Baggerly, Ava Isabella Nevel and Danielle Chazaud.
The event has three titles, all awarded with scholarship money: Miss San Diego, Miss San Diego County and Miss San Diego Outstanding Teen.
The competition is in direct association with the Miss America organization system, according to Trishaa Camp, the competition's executive director. Camp is also the cheer coach at Scripps Ranch High School.
"We mentor the young ladies, getting them ready," Camp said. "Whether they win or not, they learn a lot. They learn how to interview, how to look people in the eye, how to shake hands, how to interact within their community."
Camp meets over Zoom with each contestant to go over everything they will be doing, from what they are wearing to their talent.
"I will do one-on-one consults, and they'll come in and say, 'this is the outfit I would really like to wear.' … I will give advice like 'can you add a jacket to that?' … We do a mock interview to get them ready," she said. They will also go through whatever talent that they want. I just try to help them put their best foot forward and prepare them to go in front of a panel of judges."
Each contestant participating comes in with a platform she represents.
"Our past Miss San Diego, Mary Kohaut, her platform was supporting the first responders and our military," Camp said. "That is very close to her heart because her brother is in the service. She wanted to use her platform to bring attention to the military families."
When a contestant registers to participate in the competition, there is a $35 registration fee that goes toward the Miss America organization, and a $75 fee that is given back to the local organizations running the competitions. The competition also relies on donations and volunteer work as it is a 501(c)(3) non-profit organization. The scholarship trust fund that is the grand prize for three girls is all raised through donations from the community. Miss San Diego usually receives around $1,000, while Miss San Diego Teen gets about $500 in scholarship money depending on donations.
"When they tell us what college they've applied to and get accepted, we cut a check to defray housing costs or books or anything like that," Camp said.
"We're always looking for people that would like to join our organization that would like to come on and assist," Camp added.
While the pageant helps with scholarship money, it also helps build confidence.
"This organization teaches women it's okay to embrace your femininity but also assert yourself," Camp said. "Meet people, shake their hand, look them in the eye, don't apologize, be in the room, be part of the conversation. I think that whether an individual wins or not, there's a lot of growth that happens to go through this."