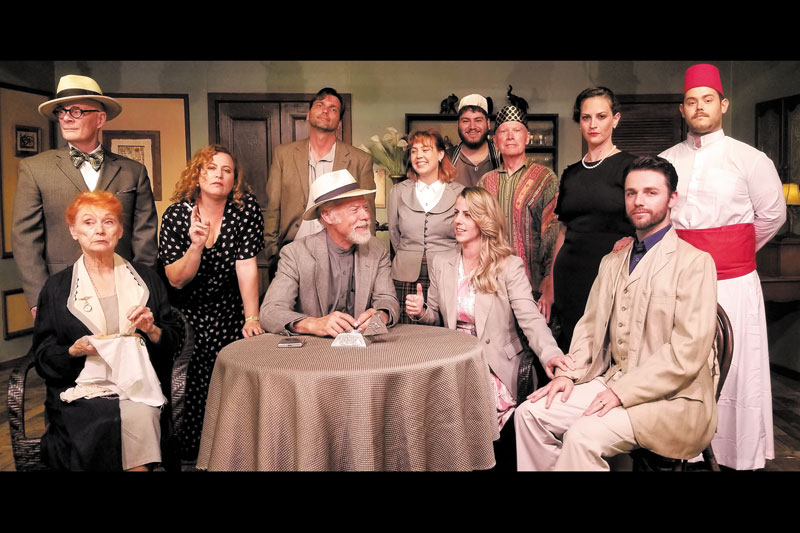 PowPAC survives COVID and roars back
By Ashley Shah
(Poway) The Poway Performing Arts Company (PowPAC) is a community theatre that has been around for more than 40 years. This summer the theatre bounced back and is performing again in its first season returning after the pandemic.
"We were just four days away from opening for a show, 'Murder on the Nile,' when everything shut down. Back then, we didn't know how long it would last. We had to decide whether we would try and survive, or just let the theatre go," PowPAC artistic director Gil Savage said.
Throughout the pandemic, the theatre held some virtual performances in an attempt to keep the organization afloat.
"For our first virtual show, we had a well-known magician do a performance, and a lot of people bought tickets. The audience was super patient, and I think they all really enjoyed it," Savage said. 
PowPAC had seven virtual performances in the 18 months it was shut down.
"Running a theatre is expensive, and without the in-person performances, there was no way we could meet the rent. Luckily, our landlord was able to give us a bit of a break and we were able to have virtual performances so that we could raise money," Savage said.
The theatre was originally set to reopen in September of this year, but was able to offer a production a bit earlier.
"Once we got word from the state that everything was opening up in June, we immediately made plans to reopen with 'Murder on the Nile,'" Savage said.
"Murder on the Nile" ran from July 16 to Aug. 8.
"As soon as we announced that we were reopening, the people flooded in. This was the most successful show we've had in years, and we are so grateful," Savage said. "I think everyone has just been so pumped that we are finally able to do in-person performances."
PowPAC's second show of the season, "Native Gardens," ran from Sept. 10 to Oct. 3.
PowPAC plans to open four other shows.
Its third show, "Dashing Through The Snow," will run from Nov. 5 to Dec. 5. The fourth show, "Transported," will be from Jan. 28 to Feb. 20. The fifth show, "Murder at Howard Johnson's," will run from March 25 to April 17. The final show of the season, "Rumors," is set to run from May 20 to June 12.
Typically, shows run for four weekends with about 14 performances.
"Usually casting takes about a week or two. We rehearse for about six weeks and build the set and such, and then performances begin," Savage said.
Because PowPAC is a community theatre, meaning all of its staff members are volunteers, it primarily relies on ticket sales and donations.
Around 50 percent of its audience members are season ticket holders.
"Our season ticket holders are able to select their seats as well as change their seats. We also have flex plans where people can buy multiple shows and pick their seats. Both plans offer a discount," Savage said.
Tickets can be purchased online through the PowPAC website, or by calling the box office. To stay up to date with PowPAC, visit powpac.org, or sign up for the email list by contacting the box office at (858) 679-8085.