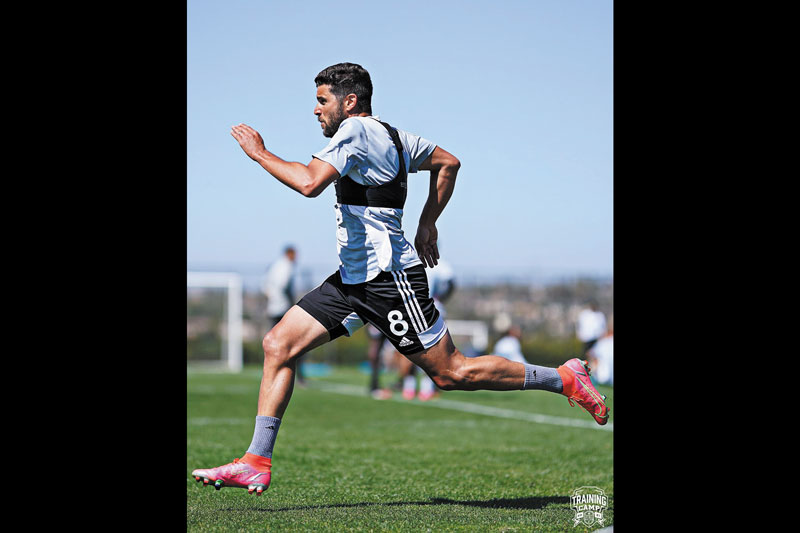 Sal Zizzo: No regrets after stellar career
By Hector Trujillo
It was a bitter-sweet ending for 34-year-old San Diego native Sal Zizzo when San Diego Loyal played its final match of the season on Nov. 5 in San Antonio. His team was bounced from the playoffs, bringing an official end to a career that spanned 15 years, two continents and being crowned champion of Major League Soccer.
Before joining Orange County Blue Star in 2006, the Patrick Henry High School and UCLA graduate was a four-year letterman and voted first-team All-CIF his junior year in baseball. However, it would be soccer in which the renowned defender would leave his mark, receiving All-CIF honors four years straight (2002-05).
After competing in U20 World Cup for the United States, Zizzo caught international attention and joined German team Hannover 96 II, the reserve squad of Bundesliga team Hannover 96, eventually signing a three-year contract with the senior squad and making his debut with them on May 10, 2008, against Werder Bremen.
"That was a pretty crazy experience and we got to play some cool games," Zizzo said. "That following January, we got to play a friendly against AC Milan back when they had all their main guys. That was a really cool moment."
Despite suffering an ACL injury later on, which forced him to miss the entire 2009-10 season, Zizzo appeared in 45 league matches during his time playing in Germany while still representing his country at the U23 and senior level. He would then make the return back to the States, signing with MLS squad Chivas USA in 2010, playing alongside fellow UCLA Bruin and U.S. men's national team defender Jonathan Bornstein before moving on to play for the Portland Timbers in 2011.
The Timbers had just joined the league as an expansion team and he helped lead the team to the best record in the Western Conference along with a trip to the conference finals in 2013, his final year with the team. The following season he would join defending champion Sporting Kansas City before moving on to play for the New York Red Bulls from 2015 to 2017, winning the Supporters' Shield, which is the annual award given to the Major League Soccer team with the best regular season, his first year there. It was also where he would first meet the team's technical director and director of soccer operations at the time, Ricardo Campos, who currently serves as interim president for San Diego Loyal.
The pinnacle of his career, however, would come in 2018 when he moved on to play for Atlanta United, making eight appearances for the club which was coached by current Mexican national team head coach Gerardo Martino, helping lead them to the MLS Cup.
"Winning the MLS Cup with Atlanta – that was a pretty cool way to end my MLS time," Zizzo said.
He announced his retirement on May 21, 2019, but the fire was still burning and he realized that there was still gas left in the tank when it came to playing. That is when the stars would align and he would come out of retirement to sign just six months later with San Diego Loyal for the 2020 season.
"It kind of came about randomly, really. I knew Ricardo (Campos) a little bit from my time at Red Bulls and knew he always had ambitions to help upstart a team in San Diego," Zizzo said. "Then I saw that Landon (Donovan) reached out to me on Twitter just asking me if I had a second to chat. A few weeks later he gave me a call and kind of gave me the whole run down of what was happening. I grew up watching Landon and played against him throughout my MLS time. I always really respected him as a player and looked up to him when I was young growing up in U.S. Soccer. All that was a pretty unique experience and one that I will never forget."
Zizzo was the team's first player to be signed, also serving as team captain.
Zizzo has not closed the door on anything in the future as long as it is related to the beautiful sport. Besides his achievements on the pitch, he has a talent for podcasting and is also weighing other possibilities including working in front office, coaching or broadcasting. So, it's likely we have not heard the last of the man affectionately known as El Macizo.