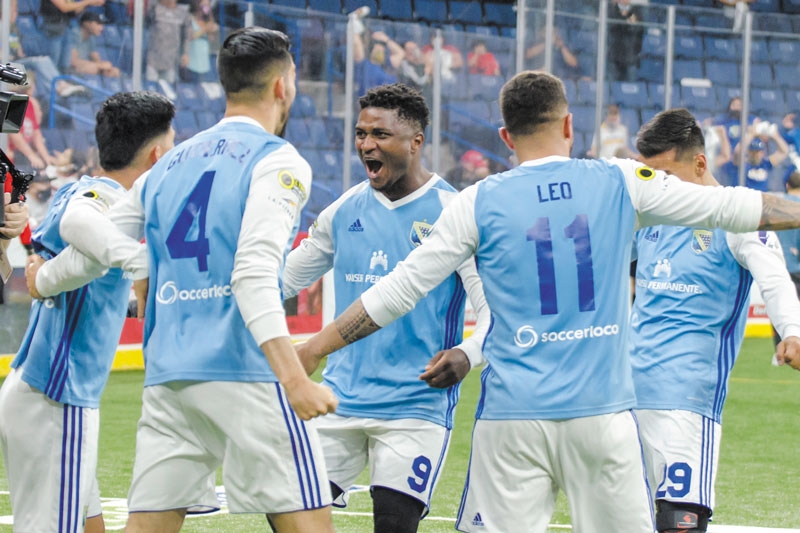 San Diego Sockers begin defense of MASL title 
By Hector Trujillo
The defending Major Arena Soccer League (MASL) champion San Diego Sockers have officially begun their journey toward a 16th Ron Newman Cup and will play their first home game of the 2021-2022 regular season this Sunday, Dec. 19, at Pechanga Arena against the Chihuahua Savage. The Sockers, who opened the season on the road back on Dec. 11 against the Tacoma Stars, have basically their entire team returning along with adding the services of veteran midfielder Juan Carlos "Charlie" Gonzalez.
"I was with the (Ontario Fury) for six years, and I gave everything to be where I'm at today," Gonzalez said. "I'm blessed to now be playing for the San Diego Sockers."
This will undoubtedly add to what has already become the most intense rivalry in the league, especially with how last season's championship ended with San Diego winning the best of three series in dramatic fashion against the Fury.
"We have most of the group returning and the team feels very confident in our ability to repeat," said Sockers team captain Kraig Chiles.
The Sockers will play a total of 24 games this season, split evenly between home and away with six of those matches coming against the Fury and four against the Savage, which will be playing its first season as part of the league.
San Diego will play its longest road trip of the season starting on Jan. 16 and ending on Jan. 26 – facing Ontario and Chihuahua twice before returning home on Jan. 28 to face off against the Tacoma Stars.
The Sockers wrap up the regular season with two home games on March 31 against the Florida Tropics and on April 3 against Ontario.
Regardless of whether or not the Sockers are successful in their title defense, the team will definitely have something to look forward to in 2023 as they move to their new state-of-the-art 6,000 seat arena in Oceanside.
The arena will be located in El Corazon Park near the SoCal Sports Complex, which is already home to 20 soccer fields and plays host to numerous youth soccer events.