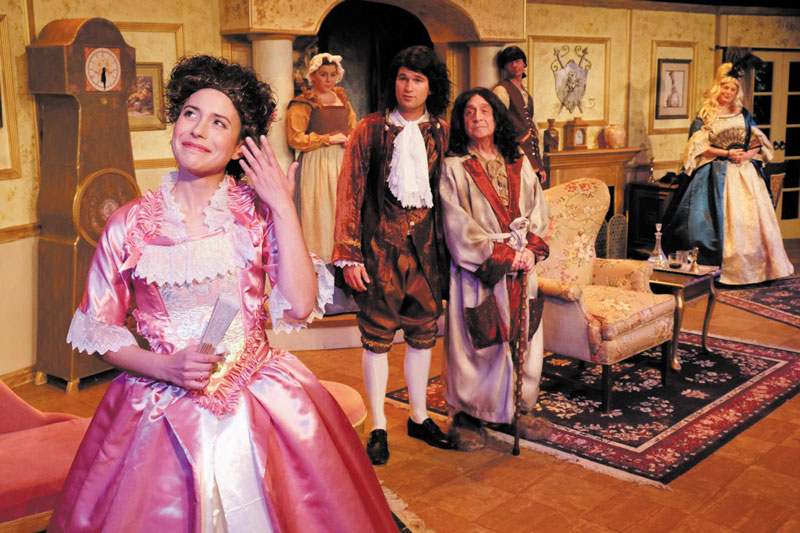 Scripps Ranch Theatre survives the pandemic


By Ashley Shah
Scripps Ranch Theatre (SRT) is in the process of reopening after the pandemic.
The theatre was just about to open for a show when COVID hit in March of 2020, and it had to shut down.
"We got lucky in the sense that we are located on Alliant's (University) property, and they had to shut down as well. We didn't have to pay rent through COVID," Art Director Jill Drexler said.
Through COVID, the theatre offered a couple of virtual shows. It also partnered with Oceanside Theatre Company on some productions.
Previously, the theatre was looking for a new space; however, for now it remains on Alliant's campus.
"We kind of are always just looking for a new space, but a lot of our patrons want us to stay in Scripps Ranch. Plus, the cost of making a functional theatre is a lot. We are actually hoping to maybe expand on Alliant's campus," Drexler said.
Currently, Scripps Ranch Theatre is waiting to get back onto Alliant's campus.
"When we are able to get back on the property, we are planning to upgrade and clean up the space," Drexler said.
The first event after the shutdown will be Dec. 4 and 5.
"We are going to have artists performing their stories, songs and poems. It is a celebratory event, so anyone is welcome to come. We just want everyone to be happy about coming back," Drexler said.
The organization's usual season runs from September to June. However, due to COVID, the next season will be from January to June 2022.
Opening night of the first show of the new season will be Jan. 14, 2022.
"Usually, we do five weeks per show, but with COVID, we are not exactly sure what to expect, so we are keeping it at three weeks per show for now, but we are willing to extend it to five weeks," Drexler said.
SRT plans three more productions.
The second show will be from Feb. 25 to March 13. The third will run from April 8 to 24. The final show will run May 20 to June 5.
Scripps Ranch Theatre is a non-profit that has been around for more than 40 years.
"We started out as a community theatre, but over the years we became a professional theatre. I believe that we are held in high regard in the San Diego area," Drexler said.
SRT has more than 1,000 season ticket holders.
"It is really nice to have season ticket holders because we don't have to start finding a new audience every time we open for a show," Drexler said. "Season ticket holders get to reserve their spots first. They also can change the time that they are coming for the show, and things like that."
As the theatre is a non-profit, it relies on donors.
"We just could not exist on ticket sales. We do have some generous grants from the city, but we appreciate every donation. You can even say what you want your donation to go toward and we'll do it," Drexler said.
The organization also holds events in which donors can come for an evening of food and wine and meet some of the staff.
As art director, Drexler is excited to be back.
"COVID was awful. It felt like we could never get out of this, but now it feels like things are possible. It was a huge weight off of our backs. I'm so excited to see us back, and I am so ready to stop staring at my computer screen," Drexler said.
Visit scrippsranchtheatre.org.