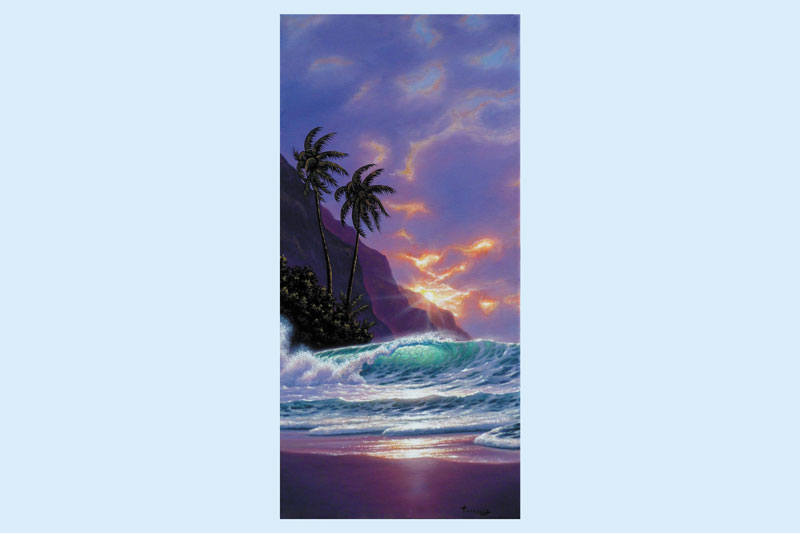 Artist strives for personal connection
By Bella Ross
"The art world," in the eyes of local artist Kyle Trudelle, is far smaller than aspirations of downtown gallery shows and big-name collectors.
In fact, the small-town artist has never signed with an art gallery – and that's not a testament to his talent.
"I always wanted a personal connection with the client," Trudelle said. "I didn't want it to be some boujee (bourgeoisie) art gallery selling this guy's artwork and he's untouchable."
Fresh off the heels of a nine-month spurt in a small town in Rhode Island, Trudelle said he is more grateful than ever to be back in Scripps Ranch. That's because the line between artistry and community building is nonexistent in Trudelle's world, where he spends his days giving back to the neighborhood through painting.
With the COVID-19 pandemic weighing heavy on everybody's hearts, Trudelle lifted spirits by painting oversized "thank you" cards for essential workers, large enough that passersby could note their own wishes on the inside with markers.
"If you put yourself into the community and just give back to them with no expectation of return, it's a powerful tool to inspire a community and bring them together," Trudelle said.
Bryon Jaymes, a friend of Trudelle who often purchases his work, said this desire to support a larger cause comes through in Trudelle's work.
"Kyle really peels back the layers and digs into you to make the artwork the most meaningful, blessed and beautiful piece of work," Jaymes said. "You will always have Kyle's work as a constant reminder to anchor you back to what matters most."
The painter's own work reflects a love of landscapes – particularly ocean scenes – with a level of realism that sometimes resembles a photograph.
But Trudelle said his final goal is not simply to create art, but to establish a space where local creatives can come together to inspire one another. His vision of a coffee shop-like space includes rooms for art classes, where Trudelle could fulfill his love for teaching art to others.
Even during the quarantine months, Trudelle was looking for ways to make this aspiration a reality. Once his schedule of art classes in Rhode Island was emptied by the virus, he decided to sell his own paint-by-numbers kits. And when he receives messages from customers asking for help with their kits, "I love personally responding to them," he said.
Trudelle said he would like to collaborate with community members on more projects. Send him ideas at trudelle_galleries@hotmail.com. Visit trudellegalleries.com.