Birds of a feather: Lucky Bird finds a home
By Terry L. Wilson
The beginning of this story occurred 11 years ago when my girlfriend, Kathy, rescued a one-week-old injured Amazon parrot. He was lying helpless in the street in front of my Ocean Beach apartment. Kathy scooped him up, saving him from a speeding car and a nearby cat that was eyeing him up as an afternoon snack.
You must understand, I was not a bird person. I've always been a dog and cat guy. With tears in her eyes, Kathy handed me what looked like a clump of feathers with a tiny beak and a foot encased in a large ball of tar.
I had no idea what to do, but it was obvious that tar had to be removed. So, I took the baby Amazon parrot into the bathroom and laid out my surgical tools that consisted of A pair of Kathy's eyelash tweezers, my nose-hair scissors and a pair of fingernail clippers. I was now ready to operate.
I carefully clipped, snipped and filed away until his tiny foot was free of the tar that had rendered him flightless. Throughout the operation he just looked at me though eyes that could barely open. To this day I often wondered what he was thinking.
It was getting late, so I told him he could stay one night while I tried to figure out what to do with him. I went to the bird store and purchased a seed mix and formula for baby Amazons. I also picked up a five-foot palm tree, thinking it would make him feel more at home.
To make sure he wouldn't need help in the middle of the night, I slept on the downstairs sofa near the palm tree. I woke up to find him on my chest, nestled against my cheek. I was hooked.
I named him Lucky Bird, an appropriate moniker considering his start in life. We had a lot to learn about each other. More than a decade later, our relationship is still a work in progress.
Parrot experts tell me that it's rare for an Amazon to share its affection. Normally they tend to be a one-person bird. But Lucky is the exception to the rule. Kathy and I take Lucky pretty much everywhere we go. He rides on the handlebar of his stroller and says hello and goodbye to everyone we pass.
Lucky loves to chat. He does a variety of animal sounds and sings along with Lawrence Welk. Once his chatty nature nearly got me in trouble. While at the Ocean Beach Street Fair we were walking behind a large biker and his girlfriend. Lucky gave her a wolf-whistle. The burly biker turned and looked at me with daggers in his eyes. I pointed to Lucky and fortunately for me, Lucky gave him a wolf-whistle too.
From day one, Lucky would perch on my head as I wrote article after article for the various magazines that kept him in bird food. That was all well and good when he weighed less than a candy bar. Even as I am typing this story, he is wandering from my head to my shoulder and occasionally walks across my keyboard. I believe he thinks he's my editor. In fact, I use L. Byrd as a pseudonym for some of my articles.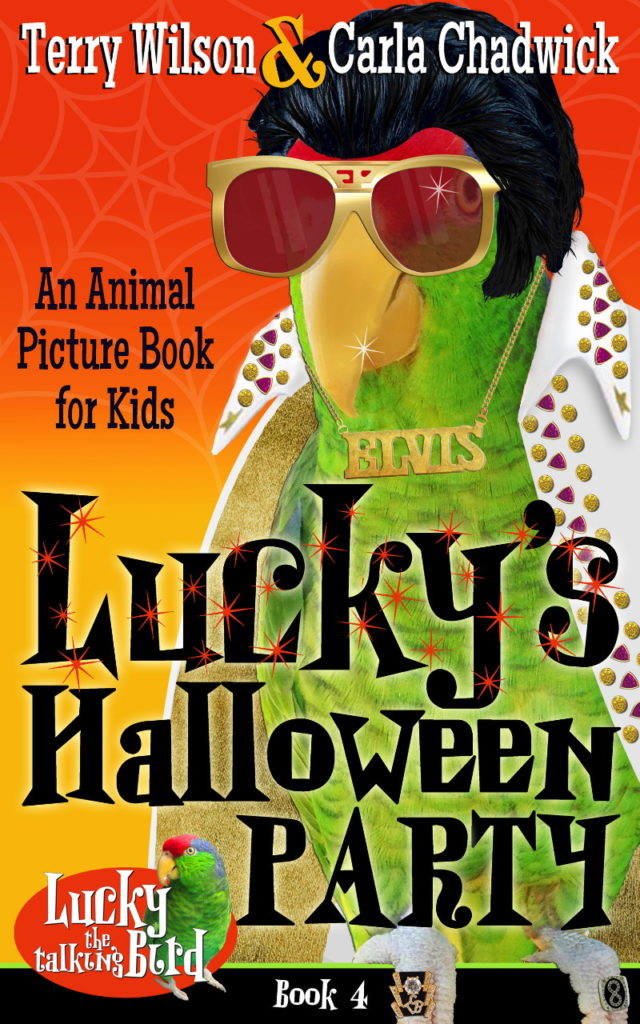 Two years ago, Lucky and I teamed up with Carla Chadwick to create a series of kids' books starring Lucky. I wrote the stories and took photos. Carla created all the graphics for the book.
We now have a series of four: "Lucky at the Beach," "Lucky's Halloween Party," "Lucky's Pals," and (my favorite) "Lucky's Tales of the Old West." Lucky's books can be found at luckybirdbooks.com.
Terry Wilson is a multiple Emmy award-winning TV personality and producer. In 1998 the Society of Professional Broadcasters voted him Best Newscast Anchor. The San Diego Press Club honored his work as a freelance writer in 2006. He has traveled the world hosting and producing TV specials in addition to writing features and cover stories for national publications. A lifelong student and teacher of martial arts, in 2004 he was inducted into the U.S.A. Martial Arts Hall of Fame.