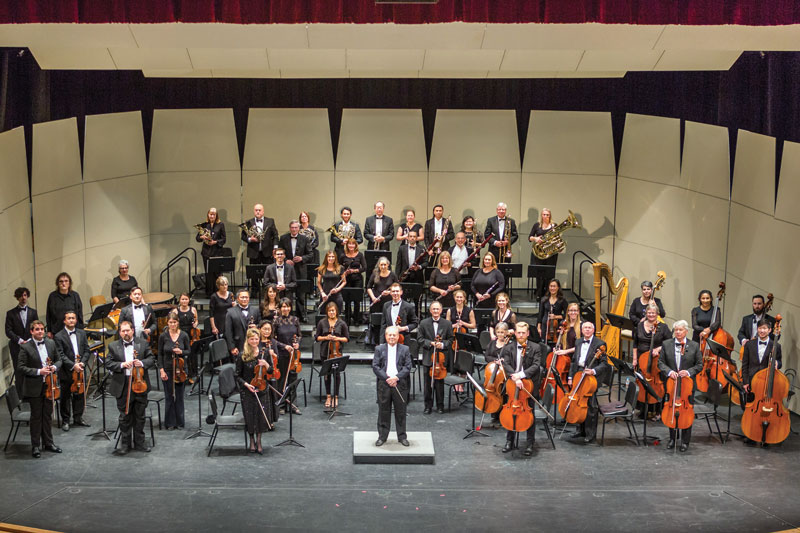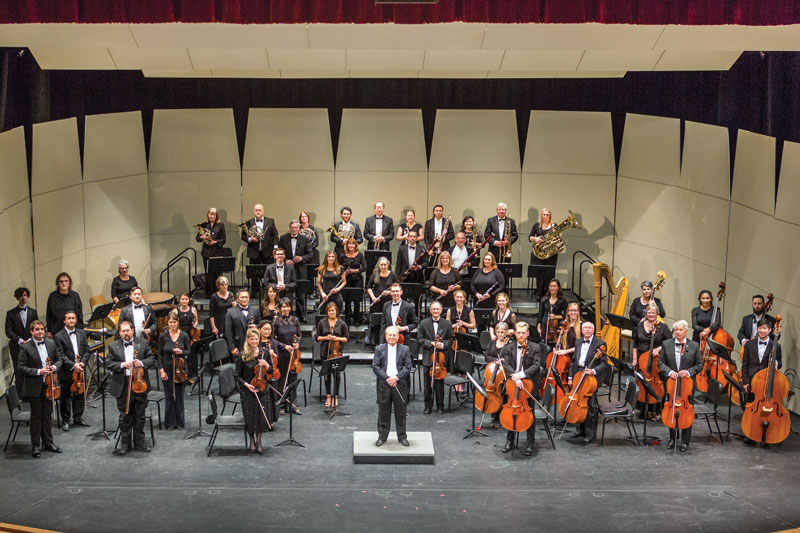 Symphony Orchestra: high level classical music
By Ken David
Classical music lovers don't have to travel far to enjoy symphonic music. The Poway Symphony Orchestra is a volunteer led effort of musicians and music lovers bringing high-level classical music performances directly to the people.
The Poway Symphony Orchestra is a volunteer community effort that originates as a class at Poway Adult School and gives symphony instrument musicians the opportunity to work on and perform classical compositions in a concert setting.
The orchestra began in the summer of 2004, when Ulli Reiner envisioned a symphony orchestra to fill the need for classical musical performances in the community, and for musicians interested in playing in a full orchestra. The first performance was on April 1, 2005. Reiner remains involved as concert master for the orchestra, providing help and guidance for the entire orchestra, especially the strings section.
The nonprofit Poway Symphony Orchestra Foundation formed in 2015. Run by a seven-member board of directors, the Foundation oversees purchasing, and leads outreach, sponsorship and publicity efforts.
"We created a foundation with the sole purpose of supporting the orchestra," said Foundation Board President Bo Matthys.
Matthys said that while the Poway area has a lot of performing arts, the Poway Symphony occupies a distinct space in the entertainment arena.
"The symphony fills a distinct gap in what's being offered here. There is no other symphony orchestra in the area. So that's why we tried to develop it, as a cultural benefit to the entire region around Poway," Matthys said. "We have audiences that come from all over – Del Mar, Rancho Bernardo, Escondido and other parts of San Diego county."
For the last five years, the Poway Orchestra has been led by Music Director and Conductor John LoPiccolo, who has an extensive musical education and has built and conducted symphonies around the world.
The orchestra originates as a class held at Poway Adult School. Musicians sign up for the class and pay a class fee that covers printing, buying music, a stipend for the conductor and other expenses of preparing performances. Regular rehearsals are held Monday evenings, 7-9:15 p.m. at Twin Peaks Middle School, with performances held at the Poway Center for Performing Arts (PCPA). Average attendance at the concerts is reported to be around 400 to 500 people these days, with one concert almost selling out the 796-seat PCPA.
"People are doing this for many different reasons," LoPiccolo said. "For some, it's a love of music. For somebody else, 'I just want to get out of the house.' Some people maybe haven't played their instrument in 10 years. But it's a community orchestra and we started to build. Now, we're functioning at a pretty high level."
If a certain instrument spot is not filled, the orchestra brings in a professional musician who performs as a paid guest. Membership in the orchestra varies a bit, depending on the repertoire, but averages around 50 players, according to LoPiccolo.
The 2019-2020 season starts big, with a Nov. 24 performance of Beethoven's "Symphony No. 9." The March 22 show will feature San Diego-based classical guitar virtuoso Fred Benedetti performing Joaquin Rodrigo's "Fantasy for a Gentleman." On May 16, the orchestra presents Brahms' "Double Concerto for Violin and Cello." All shows begin at 4 p.m., and tickets can be purchased online or at the door.
LoPiccolo said the work he and the board have done in the last five years is paying off with more sponsorship and increasing awareness and support from the community. That has set the stage for the orchestra to grow musically.
"Now, I am in the position of presenting Beethoven's 'Ninth Symphony,' which is a huge step," LoPicollo said. "I'm beside myself with the enthusiasm we've gotten from players and people in the community who are calling me wanting to participate."
The volunteer community orchestra presents a unique chance for music lovers and experienced musicians.
"Think of this wonderful opportunity for people who love music," LoPiccolo said. "They're not quite professional in that this isn't what they do solely for a living, but they love it so much they give their time and their effort to a volunteer orchestra. And now, being able to perform something like this; the chances of many musicians playing the Beethoven's Ninth are slim because it's a huge piece and it's not done all the time. I feel this is a gift for the orchestra and community to really step out."
With growing interest, support and musicianship, the symphony is thriving and looks forward to a bright future.
"In the last five years, the orchestra has grown quite a bit in musical performance and that is mainly thanks to the leadership of John, who has brought up the level quite a bit," Matthys said. "It allows us to play bigger pieces of work that our audiences like very much."
To learn more about the Poway Symphony orchestra, including playing, attending or volunteering, visit powaysymphonyorchestra.org or email powaysymph@gmail.com.