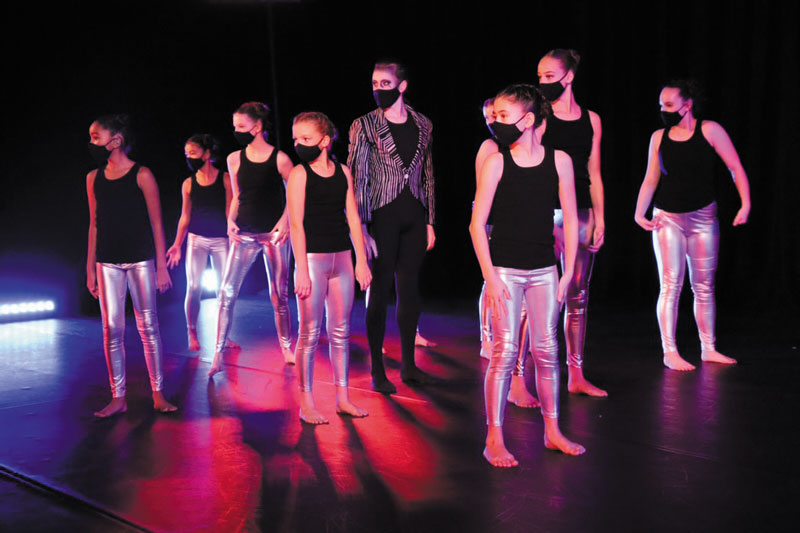 The show must go on!
By Alex Piscatelli
One dance company is not letting COVID-19 stop it from letting its kids perform.
Lynch Dance Institute, owned by Scripps Ranch residents Alex Dickson and Tim Lynch, converted its studio into a black box theater and turned its annual Christmas show into a video production.
This year's Christmas performance is a production called "Nightmare Before Christmas."
Dickson said they normally do a performance called "Mixed Nuts," which is a coming-of-age show loosely based on "The Nutcracker."
"We all came to an agreement if we couldn't do 'Mixed Nuts' the way it's supposed to be done, then we didn't want to do it," Dickson said. "What we decided to do is just change gears completely and do a dance film instead."
They rented everything they needed to turn their studio into a black box theater: a black drape, lights and more.
"We are building this whole shabang from the ground up," Dickson said.
Since the production is different from what they have done in previous years, there has been a learning curve.
"We just kind of figured it out as we went along," Dickinson said. "It's not going to be like we're taping a recital. It's a dance film — We're making the performance, dissecting it, shooting it and putting it all back together."
Dickinson said it is harder because of this, but the team at Lynch Dance Institute wanted to take on the challenge.
"We never look at what's easiest," Dickinson said. "We look at what's going to suit the families and give the children what they need."
She said they knew they needed to do something for the souls of the kids.
"The kids have been dealing with a lot of stress and a lot of screen time — We really felt like we needed to be a part of their joy and a little bit of saving grace," Dickinson said. "How can we try to keep as much normalcy as possible when things are so abnormal?"
Thirty-three of the students in the performance are Scripps Ranch residents.
Despite the changes the kids have gone through in 2020, they're excited to be a part of the production.
"As a matter of fact, one of the kids said to me, 'I am more excited about this than I think I've ever been for any other performance,'" Dickin- son said. "I really think that's because of COVID … They feel so grateful to be out of their houses and doing what they love."
Dickinson said it would have been easy to cancel the show this year.
"We could easily have said we're doing nothing — but the kids are our inspiration," she said.
Community is what keeps Dickinson and the team at Lynch Dance Institute going.
"I think the people that we have the fortune to work with on a daily basis are really special, and the kids are such a joy to work with," Dickinson said. "It's a tremendous amount of work, but we wouldn't trade it for anything."