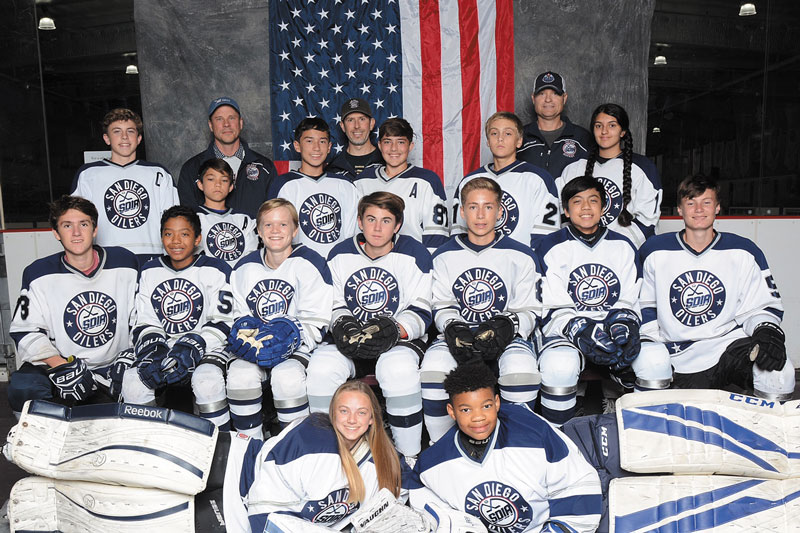 Time for fun on the ice again
By Terry L. Wilson
Since 1975, The San Diego Ice Arena (SDIA) in Mira Mesa has been offering ice skaters of all sizes and ages a chance to toe loop, flip, Lutz, pin a puck, check an opponent or even have a birthday party. 
"We are the oldest ice rink in San Diego. In 2000, my family took ownership of the rink, and we are still here," said owner Philip Linssen.
"We operate three divisions in this rink: Skating, Hockey and Family Fun," Linssen said. "We are the home of the award winning 'Ice Skating Birthday Party,' and we're the sole provider of ice skating camps for the city of San Diego and YMCA programs in the summer."
The SDIA's birthday parties are the hottest events on ice, recognized nationally as one of the best-run events of it's kind in the country. However, when Philip and his brother Mark first took over, the parties were a mess. To fix the problem, the brothers turned to the people who put the "magic" into the Magic Kingdom.
"The birthday parties are part of our Family Fun Division. At first they weren't doing very well. In fact, they were terrible. So, Mark and I attended special classes at Disney Way, a wing of the Walt Disney Institute, a training program for Disney's upper management and employees," Philip said. "We learned that we were doing everything incorrectly. So, we changed everything around using Disney's formula, and now our birthday parties are a roaring success."
The SDIA's Figure Skating Program also offers lessons year round to fit all skill levels, from beginners to future Olympic champions.
"The foundation of figure skating is a combination of regular training and participation in competitions. It is a very affordable way to learn how to skate," Philip said. "People love our program. Many just want to have fun and learn to skate better, and there are those that aspire to become professional skaters, maybe even to win an Olympic Gold someday."
For those who want the thrill of a breakaway and the excitement of scoring a goal or making a game winning save, the SDIA Hockey League is ready to put a stick in your hand and a puck at your feet.
"We run a full hockey program from Mini Mites up to adults," Philip said. "We have a major hockey travel team, the San Diego Oilers. We also have a high school league. Our hockey and skating program are run by two top-notch instructors."
The SDIA has a free six week hockey program for kids, ages 6 to 12. The class focuses on basic skating, stopping and simple drills to improve and teach each beginner all about hockey skating.
Those who want more serious stick-time can try the Goalie Clinic Power Skating class, or take a private lesson to sharpen their puck handling and skating skills.
"The San Diego Ice Arena also runs the outdoor rink at Liberty Station," Philip said. "It starts in November and runs until Jan. 10. We've been running that program for 21-years. It's a fundraiser for Children's Hospital – and our way of giving back to society and the community."
The SDIA is currently open for public sessions. Admission is $15. The group rate is $13 per person. All admissions include free skate rentals.
The San Diego Ice Arena is at 11048 Ice Skate Place.
For additional information about hours of operation, prices and programs, phone (858) 530-1825 or visit sdice.com.