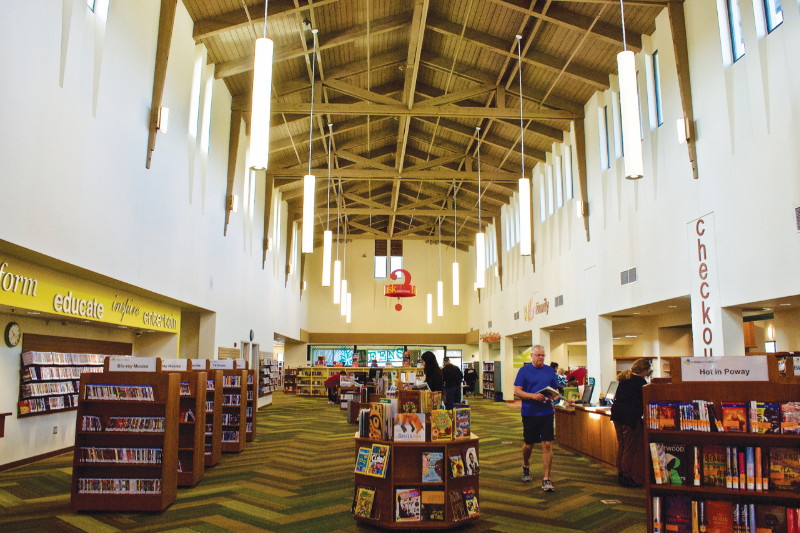 Library is a learning and community center
By Ken David
The Poway branch of the San Diego County Library at 1317 Poway Road offers residents a modern community meeting place and a center for learning, discovery and entertainment.
Opened in 1998, the 20,000 square foot library features a large shaded courtyard and a large, bright and airy main building as well as community rooms surrounding the courtyard. Branch Manager Marisa Lowe said visitors can access millions of titles thanks to the floating collection shared by all libraries in the county system, in addition to other partnerships and consortiums.
"One is called Circa, which includes a number of university libraries like UCSD, USD, SDSU, as well as Oceanside Public Library, SD County Library and San Diego Public Library. We all borrow from each other and lend to each other," Lowe said. "Then, there's another consortium we're a part of called the Link + system, so that's another network of libraries and we can get media from that one in addition to books."
Indeed, the library today is about more than books and more than hardcopies. Music and movies are also available at the library, and library card holders have access to more than 70,000 e-book, e-magazine and audio book titles for both kids and adults. The library's website allows people to sign up for an instant digital card to access the e-books and the apps necessary to read or listen to them. Additionally, there are no late fees for electronic books and magazines.
"It's a great new technology that is expanding people's access to reading and literacy," Lowe said.
Joye Davisson has been a member of Friends of the Poway Library for 30 years and president of the organization for the last four years. She remembers the previous, much smaller location at the Lively Center and the excitement of getting a new location.
"The city had a library advisory committee and I sat on the committee for a number of years," she said. "We did a lot of research … and went through architects' proposals. We argued and ended up coming to an agreement on what kind of library we wanted. We finally got the library we're in now with a lot of begging and research and convincing people that it was important."
In addition to books, magazines, movies, music and reference materials, the library is a hub of activity. There are five private group study rooms that can be booked first come-first served, and a community room is available for larger, public informational and educational events.
The library's calendar is full of events and activities of all types for all ages. These include exercise classes, arts and crafts, games, music, writing groups, computer programming classes, and a program for people studying for their U.S. citizenship exam.
"I think we offer a lot of innovative and creative programming at our branch," Lowe said. "Within the library walls, there are so many diverse educational opportunities. We have a lot of unique programs we offer for the community – and they're free."
The range of activity and services available at the library take this community facility beyond the traditional realm such places used to occupy.
"I feel the modern library now has been redefined as a community center – or square – where we're offering programming that's educational, we're reflecting our diverse communities, we're doing entertainment programs to bring people together at the library for a number of things," Lowe said. "There's been a big push in technology also, so that has shaped the modern library, too."
On the technology side, in addition to e-books, magazines and audio books, the Poway Branch library features three MakerBot 3D printers. The 3D printers allow people to choose a pre-designed model or create one of their own and download it to the printer which then prints the item using plastic filament.
In the children's area, a new batch of AWE Learning computers were recently installed. The computers are designed specifically for ages 2-8, with interactive educational learning programs covering math, science and nature, social studies and geography, reading, art and music, writing and computer skills, and references.
"They're a higher caliber computer than we had before," Lowe said.
Procurement of the AWE computers was coordinated by Youth Service Librarian Danielle Ghio and paid for by a donation from the Friends of the Poway Library.
For more information on the Poway Branch Library and its programs, visit sdcl.org and select Poway from the "Hours & Locations" tab or call (858) 513-2900.