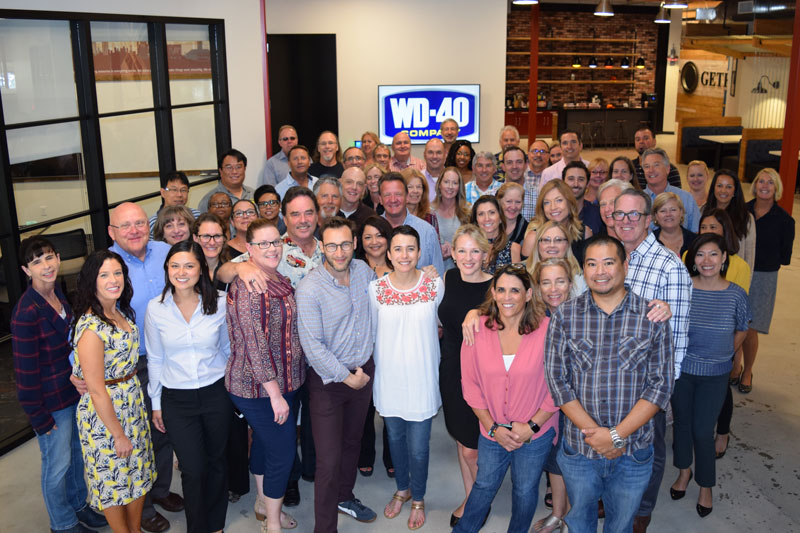 Scripps Ranch is home to WD-40
By Ken David
Scripps Ranch is home to a world-wide business giant, makers of a product so successful that it's something of an icon. That business is the WD-40 Company. According to the company's website, the WD-40 Multi-Use Product — with more than 2,000 documented uses — can be found in four out of five American households and is used by 81 percent of trade professionals. Every week, they sell more than 1 million cans in the United States alone.
The publicly traded WD-40 Company, makers of WD-40 Multi-Use Product, moved into its 9715 Business Park Ave. location in August 2017, according to Scripps Ranch resident and WD-40 Company Director of Investor Relations and Corporate Communications Wendy Kelley.
"We were located in the Morena area since the '70s, but we outgrew that location," Kelley said. "When I got the news that we were moving to Scripps Ranch, I was very happy."
Scripps Ranch now serves as its main corporate headquarters, including the office of the CEO, CFO and other executives. The headquarters staff handles everything the company needs to sell it products in the United States, including things sales and marketing, supply chain, financing and accounting. The U.S. staff also helps with sales and marketing efforts in Canada and Latin America. Approximately 125 workers are at the Scripps Ranch office, but the company's entire roster includes 485 employees. A corporate office in London manages WD-40's European business, and the company also has smaller offices in other parts of the world.
"We have a unique business model where we don't manufacture anything; we use contract manufacturers to manufacture our product all over the world," Kelley said. "We manufacture in about 15 locations; two to four in the United States, (plus others) in the UK, continental Europe, China, Australia, Brazil and Korea. Our goal is to manufacture the product as close to the end user as possible and not be exporting cans all over."
For a long time, the company manufactured only its flagship multi-use product, now available in several formulations, containers and applicators to fit specific needs. The company now also boasts a Specialist line of products. The Specialist range includes high-performance products for lubrication, greasing, penetration, rust management, and cleaning and degreasing.
"They're very niche products, primarily focused on the end user that maybe does maintenance, repair or overhaul as part of their job versus someone like me who maybe sprays a little WD-40 on a hinge from time to time," Kelley said.
The company has also developed Specialist Bike and Motorcycle lines made for these machines' specific lubrication needs. Other companies and products now owned by WD-40 include 3-in-1 oil, Lava soap, Spot Shot carpet stain remover and Carpet Fresh. The company also owns a handful of brands sold only overseas.
With a proud history and solid home base footing, the WD-40 Company is looking to expand its business in new markets.
"We have really good market penetration in places like the United States, Canada, UK, and Australia, but in the rest of the countries where we do business, we're barely scraping the surface," Kelley said. "Our primary objective is to continue to introduce WD-40 multiuse product to the rest of the world."