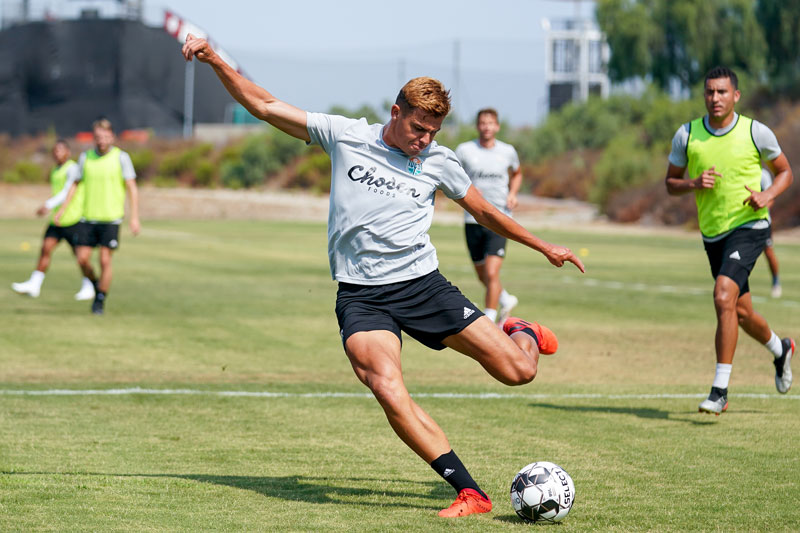 Miguel Berry: Impactful performance in unforgettable season
By Hector Trujillo
for San Diego Words & Pictures
After a short yet tumultuous season impacted by the ongoing COVID-19 pandemic and a battle in favor of social justice, San Diego Loyal SC has officially wrapped up its inaugural regular season in the USL Championship. One of the reasons the team was able to turn its season around at the midway point was thanks to the play of former Poway High School and University of San Diego (USD) star Miguel Berry.
The 23-year old Berry was acquired via loan from the Columbus Crew of Major League Soccer on Aug. 28, earning a starting position the very next day against Orange County SC.
"I had the opportunity to see him play in person last year in USD and it was clear that he was ready to play at the next level," said executive vice president of soccer operations and head coach Landon Donovan. "He has all the tools to be a high-level striker and we are lucky to have another San Diegan."
A first round and seventh overall pick in the 2020 MLS SuperDraft by Columbus, Berry broke into the scoresheet in his third game as a starter with two goals against LA Galaxy II, which included the quickest goal in the league the entire season just 25 seconds into the match – and ended with another goal against Phoenix Rising in the final match.
"My belief is that he will continue to improve as a player and the key for him now is to get minutes playing in the USL and MLS so you will get to see the best of him," said USD men's soccer coach Brian Quinn. "My memory of Miguel is that he was always willing to learn, always watching, learning, improving and getting better every year."
During his four seasons at USD, Berry made a total of 72 appearances, with 69 as a starter, scoring 38 goals and recording 16 assists. He was also named the 2019 WCC All-American Co-Player of the Year and was a semi-finalist for the MAC Hermann National Player of the Year award.
"I always knew I wanted to be a professional soccer player. My older brother, Alejandro, was the first person in my family to play and I always looked up to him and copied him in everything," Berry said.
I recently had the pleasure of interviewing the native of Barcelona to learn more about him as a player and person:
Q: How old were you when you moved to San Diego and how close do you follow La Liga in Spain?
A: "I moved to San Diego when I was eight and I've probably seen 98 percent of the Barcelona games for the last 15 years. I can't handle missing them and I'm still a huge fan."
Q: What were your best memories about playing at Poway High School?
A: "Winning Palomar League as a freshman and sophomore with a great group of guys."
Q: How did your time at USD prepare you for becoming a professional?
A: "I learned how to take good care of my body and really found a lot of personal drive and motivation to excel and keep progressing as a player. Coach Quinn was amazingly helpful in that."
Q: What was your major at USD and why did you pick that one?
A: "I picked finance because I knew it would help me make good financial decisions as a professional player and I could graduate in 3.5 years and be free for the MLS draft."
Q: How did you get the offer to play for San Diego Loyal?
A: "I spoke with Landon a couple months back and they were always interested in getting me on loan. The time was right and I'm extremely happy to be here. It's a dream come true to play for someone of his caliber and he's already helped me so much."
Q: What words of advice do you have for aspiring soccer players attempting to become a pro?
A: "My advice to any young person trying to play professionally is just to play as much as possible. Not just at your scheduled practice but outside on your own or even in the house if your parents allow it."